$
Pizza
Pizza Hut
Day of the Week
Hours
Mon

10:30 AM

-

10:00 PM

Tues

10:30 AM

-

10:00 PM

Wed

10:30 AM

-

10:00 PM

Thurs

10:30 AM

-

10:00 PM

Fri

10:30 AM

-

11:00 PM

Sat

10:30 AM

-

11:00 PM

Sun

10:30 AM

-

10:00 PM
Carryout hours may vary
Day of the Week
Hours
Mon

10:30 AM

-

10:00 PM

Tues

10:30 AM

-

10:00 PM

Wed

10:30 AM

-

10:00 PM

Thurs

10:30 AM

-

10:00 PM

Fri

10:30 AM

-

11:00 PM

Sat

10:30 AM

-

11:00 PM

Sun

10:30 AM

-

10:00 PM
Delivery hours may vary
Popular Pizzas at Pizza Hut 7519 Pacific St
Cheese Pizza

Your favorite cheese pizza, with your choice of crust covered in classic marinara sauce and topped with gooey mozzarella cheese. It's anything but "plain."

Pepperoni Pizza

You literally can't go wrong with pepperoni and mozzarella cheese. Classic for a reason.

Supreme Pizza

This loaded pizza is the perfect choice for family dinner or a lunch with your crew. Includes pepperoni, seasoned pork, beef, mushrooms, green bell peppers and red onions.

Meat Lovers Pizza

Packed with pepperoni, Italian sausage, ham, bacon, seasoned pork and beef, this pizza is NOT messing around.

Veggie Lover's® Pizza

Pizza is officially a vegetable. This garden delight has all the fresh veggie toppings you love: mushrooms, red onions, green bell peppers, Roma tomatoes and black olives.

Create Your Own

Be the Picasso of your next pizza night. Choose from our awesome ingredients and crusts. Onions, sausage, peppers, olives, pineapple—whatever you crave!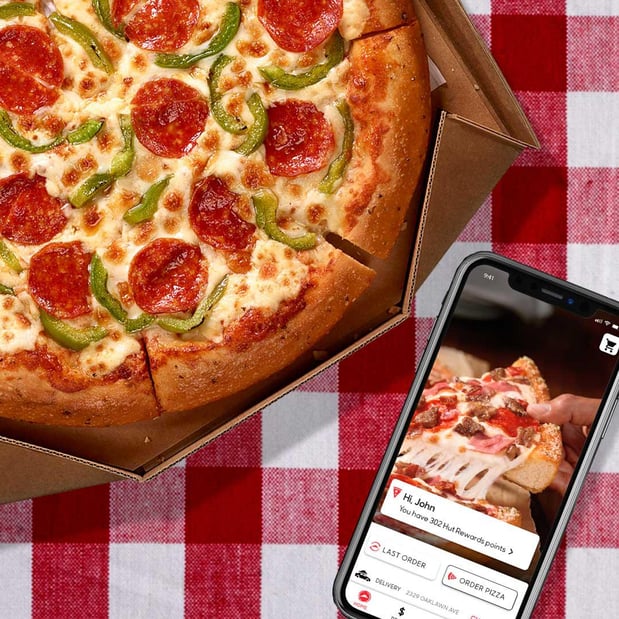 Pizza Hut App
Download the official Pizza Hut app for the easiest way to order your favorite pizza, wings, desserts and more! We've added contactless ordering features, so you and your family can get your favorite pizza without worry. Our app is designed for pizza lovers, making fast food delivery and takeout even easier.
Your Local Omaha Pizzeria
Hungry for a cheesy, fluffy, delicious pizza? Looking for a pizzeria near you in Omaha, NE? Whether you're craving a pepperoni, veggie, or just plain cheese slice, our pizzeria at 7519 Pacific St has a fantastic selection of pies to choose from. Our mouth-watering pizza menu includes our most popular choices such as the Supreme Pizza, Pepperoni Pizza, and the Meat Lover's® Pizza. Perhaps you're feeling a little adventurous? Why not try our Chicken-Bacon Parmesan Pizza or the Backyard BBQ Chicken Pizza. Our extensive menu also includes the Buffalo Chicken Pizza, Hawaiian Chicken Pizza, Veggie Lover's® Pizza, and Pizza Hut's very own Pepperoni Lover's® Pizza. You can also create your own pizza and choose from all the awesome ingredients and crusts on offer! To view our full menu at our 7519 Pacific St location simply start your order on PizzaHut.com or call us at 4023999898.
This Omaha pizzeria is not your typical everyday pizza joint. We're always innovating our 68114 menu. Try our awesome crusts, such as the Original Stuffed Crust® or the Thin 'N Crispy®. Load up your pizza with zesty marinara, melty cheese, and your choice of toppings like pepperoni, veggies, bacon, and more. Make sure to check out our wings menu if you feel like adding a side order of crispy-fried wings sauced to perfection with your pizza. Our extensive menu also includes an array of mouth-watering desserts, delicious sides, and classic drinks. With over 6,000 Pizza Hut restaurants throughout the US, there is usually a pizzeria nearby. Check out our store locator to find more Pizza Hut restaurants in Omaha, NE, then order online and we'll get your piping-hot pizza ready in the oven.