$
Pizza
Pizza Hut
Day of the Week
Hours
Mon

10:00 AM

-

12:00 AM

Tues

10:00 AM

-

12:00 AM

Wed

10:00 AM

-

12:00 AM

Thurs

10:00 AM

-

12:00 AM

Fri

10:00 AM

-

1:00 AM

Sat

10:00 AM

-

1:00 AM

Sun

10:00 AM

-

12:00 AM
Carryout hours may vary
Day of the Week
Hours
Mon

10:30 AM

-

12:00 AM

Tues

10:30 AM

-

12:00 AM

Wed

10:30 AM

-

12:00 AM

Thurs

10:30 AM

-

12:00 AM

Fri

10:30 AM

-

1:00 AM

Sat

10:30 AM

-

1:00 AM

Sun

10:30 AM

-

12:00 AM
Delivery hours may vary
Kansas City Get Hungry! Enjoy these popular products
Pepperoni Pizza

You literally can't go wrong with pepperoni and mozzarella cheese. Classic for a reason.

Veggie Lover's® Pizza

Pizza is officially a vegetable. This garden delight has all the fresh veggie toppings you love: mushrooms, red onions, green bell peppers, Roma tomatoes and black olives.

Create Your Own

Be the Picasso of your next pizza night. Choose from our awesome ingredients and crusts. Onions, sausage, peppers, olives, pineapple—whatever you crave!

Breaded Boneless Wings

All the wings. None of the work. Get these tasty, 100% all-white meat boneless wings tossed in your favorite sauce.

Tuscani® Chicken Alfredo Pasta

Grilled chicken breast? Check. Creamy alfredo sauce? Check. Layer of cheese plus a side of breadsticks? Checkmate. Serves 2. Unless you want to keep it all to yourself.

Triple Chocolate Brownie

Chocolate, chocolate, and more chocolate. Dig into this rich, decadent brownie made with semi-sweet chocolate chips, dark chocolate chips and cocoa. Did we mention there's chocolate?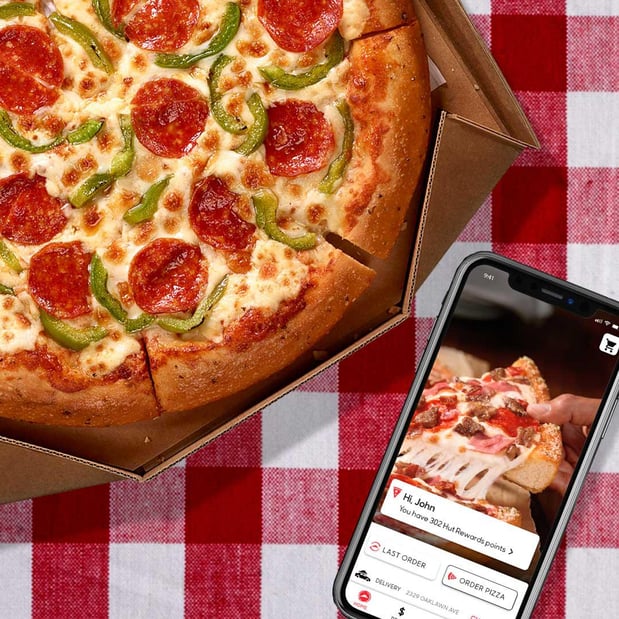 Pizza Hut App
Download the official Pizza Hut app for the easiest way to order your favorite pizza, wings, desserts and more! We've added contactless ordering features, so you and your family can get your favorite pizza without worry. Our app is designed for pizza lovers, making fast food delivery and takeout even easier.
Kansas City Get Hungry! Enjoy these popular products
Hanging out in Kansas City and your stomach is growling? There are a lot of options to choose from in 64155 but No One OutPizzas the Hut®! Pizza Hut has you covered with oven-hot pizzas, juicy wings, and delectable desserts. Our pizza takes things to the next level. There are so many delicious crust recipes and toppings to choose from. Whether you love Thin 'N Crispy®, Hand-tossed, or Original Stuffed Crust®, you'll find exactly what you're craving with all of the toppings you love. If you're feeling adventurous, you can create your own pizza and choose from all the delicious ingredients and crusts we offer. If it's wings you're after, then look no further. We've got traditional, bone-out, tangy, spicy, sweet, and much more. Or perhaps a delicious plate of pasta? You need to try our Tuscani® Meaty Marinara Pasta or the Tuscani® Chicken Alfredo. With so many great options, there is something for the whole family to enjoy. Explore our extensive menu and discover great deals in the Kansas City area.
So what are you waiting for? Chances are we have a restaurant right around the corner from you. Order the food you're craving from your local Pizza Hut at 9580 N. McGee Street in the 64155 area online at PizzaHut.com or call 8164200026 to place your order. And if you want to see our full selection of restaurants in Kansas City, check out our store locator. We look forward to seeing you!